4 Types of Communication (With Tips)
Strong communication skills are essential for advancement in your career. Almost all jobs require you to communicate with others, whether to make sales, work on internal projects as a team or complete other tasks. In this article, we discuss the four different types of communication skills and how to use them effectively in your professional life.
is the act of sharing or transferring information between two or more individuals or a group of people. Technically, each communication process requires a sender, a recipient, a message and a medium. The transmission of a message often has emotions and cultural significance attached to it. Due to differences in perception and understanding, the receiver at the end of the communication chain may not interpret the message in the same way as intended by the original sender. This is the reason why employers look for candidates with good communication skills
What Are The Different Types Of Communication?
There are four types of communication: verbal, nonverbal, written and visual. While many situations use one singular type of communication, you may find that some communications involve a blend of several different types at once. For example, sending an email involves only using written communication, but giving a presentation can involve all four types of communication.
1. Verbal communication
is the most common type of communication. It involves the use of spoken words or sign language to share information. Verbal communication can either happen face to face or through other channels, such as mobile phone, radio and video conferencing. Thus, if your job involves conducting business meetings, giving presentations and making phone calls, your employer would expect you to have good verbal communication skills.
2. Nonverbal communication
Nonverbal communication involves passive communication through the use of gestures, tone of voice, body language and facial expressions to share your thoughts and feelings. You can even communicate non-verbally by the way you dress. Nonverbal communication
Related: Common Business Communication Skills And Their Importance
3. Written communication
Written communication includes communicating through writing, typing or printing. It is done through channels such as letters, text messages, emails, social media and books. Businesses may prefer written communication because it has fewer chances of distortion. For example, communicating a business plan in writing ensures that everyone gets the same message and can refer to it any time in the future.
Related: Written Communication Skills: Definitions and Examples
4. Visual communication
Visual communication uses graphs, charts, photographs, maps and logos to share information. It is mostly used in combination with verbal or written communication in order to simplify the information. For example, using slides and flow charts during a presentation makes it easier for the audience to grasp complex data.
Types of Communication
1. Verbal Communication
Verbal communication encompasses all communication using spoken words, or unspoken words as in the case with sign language. It is important to understand how to effectively communicate your ideas verbally in order to avoid misunderstandings and maximize interest while you speak. Make sure to use the right type of language, speak clearly, know your audience, respond in the best way, and use an appropriate tone when speaking.
Photo by Anna Vander Stel on Unsplash
2. Nonverbal Communication
What is actually being said is only half the battle — the rest lies in what isn't being said. This means your tone, facial expressions, body language, hand movements, and eye contact. When you make yourself aware of what the rest of you is doing as you speak, you can make corrections and eventually use all the right nonverbal cues to convey your point.
3. Written Communication
Written communication is a form of verbal communication, but it is so different than spoken verbal communication that this form gets its own separate type. Written communication can take the form of anything you write or type such as letters, emails, notes, texts, billboards, even a message written in the sky! With written communication, it is important you know your audience, your purpose, and maintain consistency throughout your written message.
4. Visual Communication
Visual communication is one you may not have heard of, but it is one that complements the other types of communication well. Visual communication is delivering information, messages, and points by way of graphical representations, or visual aids.
Some commonly used examples are slide presentations, diagrams, physical models, drawings, and illustrations. When you use visual communication in addition to verbal, nonverbal, and written communication, you create a very effective way for your message to be heard and understood.
Photo by Volodymyr Hryshchenko on Unsplash
5. Listening
Listening is a surprisingly important part of communication and in order to be a great communicator, you must master the art of listening. Remember that listening doesn't just mean hearing, or politely waiting for your turn to speak. When others are speaking, you should practice active listening, which means that you are engaging your mind while the person speaks, intently focusing on what they are saying.
Formal Communication vs Informal Communication
Another way that types of communication can be broken down into is in formal vs informal communication. There are times when one should be used over the other, such as when delivering a speech (formal), or when making brunch plans with a friend (informal).
Communicating over the internet comes with special considerations. When you combine anonymity with a wide reach, messages can get muddled. Just think about how communication works on social media platforms.
With the University of the People, however, we make it a point to deliver the most effective online communication possible — we are 100% online, after all. Through their discussion boards and peer assessments, students communicate thoughts and ideas wherever and whenever they want.
Photo by Glenn Carstens-Peters on Unsplash
Touch
The meaning of a simple touch differs between individuals, genders, and cultures. In Mexico, when doing business, men may find themselves being grasped on the arm by another man. To pull away is seen as rude. In Indonesia, to touch anyone on the head or touch anything with one's foot is considered highly offensive. In the Far East, according to business etiquette writer Nazir Daud, "it is considered impolite for a woman to shake a man's hand (Daud, 2008)." Americans, as we have noted, place great value in a firm handshake. But handshaking as a competitive sport ("the bone-crusher") can come off as needlessly aggressive, at home and abroad.
Anthropologist Edward T. Hall coined the term proxemics to denote the different kinds of distance that occur between people. These distances vary between cultures. The figure below outlines the basic proxemics of everyday life and their meaning (Hall, 1966):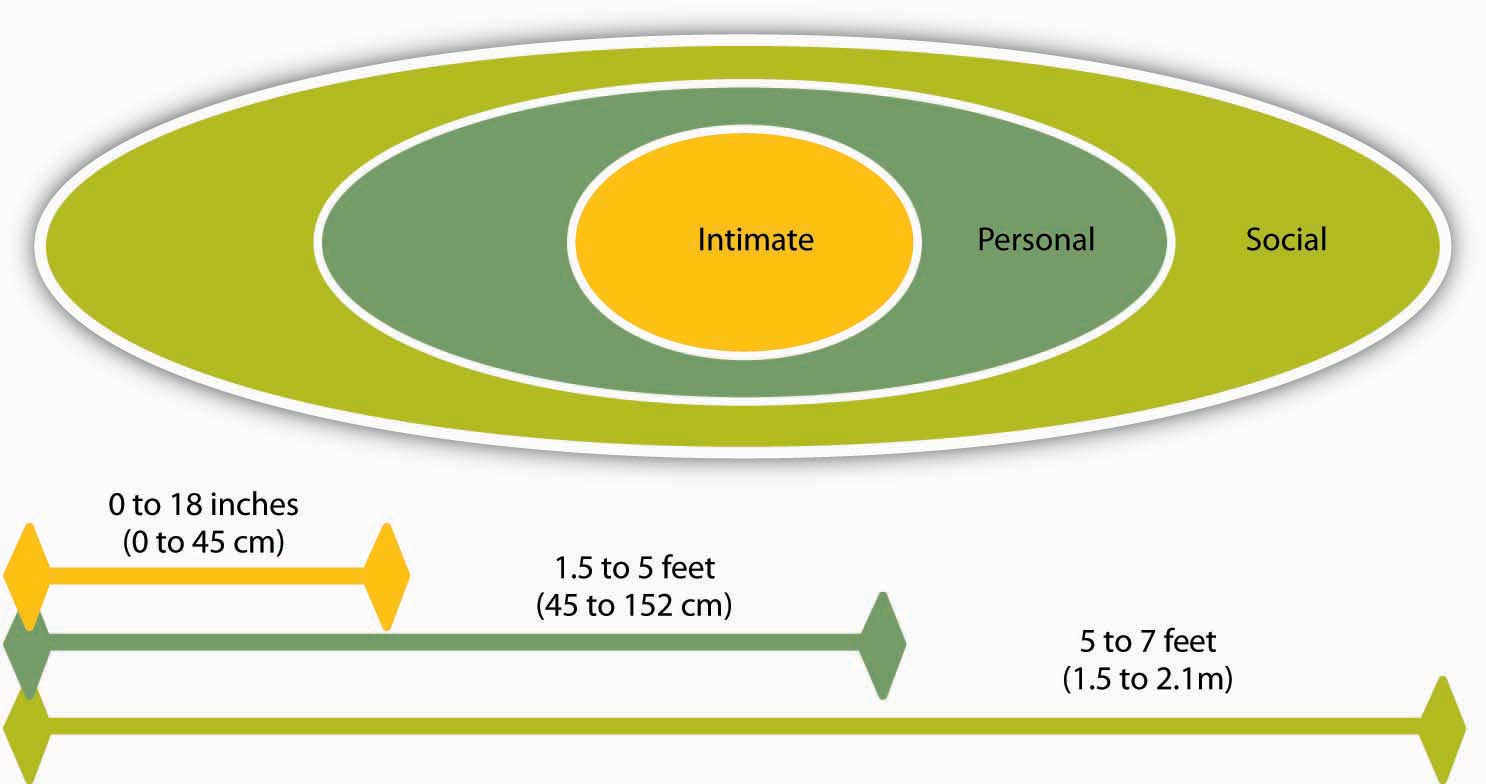 Standing too far away from a colleague (such as a public speaking distance of more than seven feet) or too close to a colleague (intimate distance for embracing) can thwart an effective verbal communication in business.
Key Takeaway
Types of communication include verbal, written, and nonverbal. Verbal communications have the advantage of immediate feedback, are best for conveying emotions, and can involve storytelling and crucial conversations. Written communications have the advantage of asynchronicity, of reaching many readers, and are best for conveying information. Both verbal and written communications convey nonverbal messages through tone; verbal communications are also colored by body language, eye contact, facial expression, posture, touch, and space.
Exercises
Source:
https://in.indeed.com/career-advice/career-development/types-of-communication
https://www.uopeople.edu/blog/types-of-communication-back-to-basics/
https://open.lib.umn.edu/principlesmanagement/chapter/12-5-different-types-of-communication/